les NEWS de la ZanZanA, l'émission MeTaL de RTCI
Saturday, November 16, 2019, in Albums, Vidéo, News
Découvrez la nouvelle vidéo de BOKASSA "Charmed & Extremely Treacherous" :
Ce titre est extrait du nouvel album "Crimson Riders" deuxième album studio du groupe de rock norvégien. L'album est sorti le 21 juin 2019 via Kings Of Stonerpunk et MVKA.
Bokassa seront en concert à Paris le 13 décembre prochain/ Backstage O Sullivan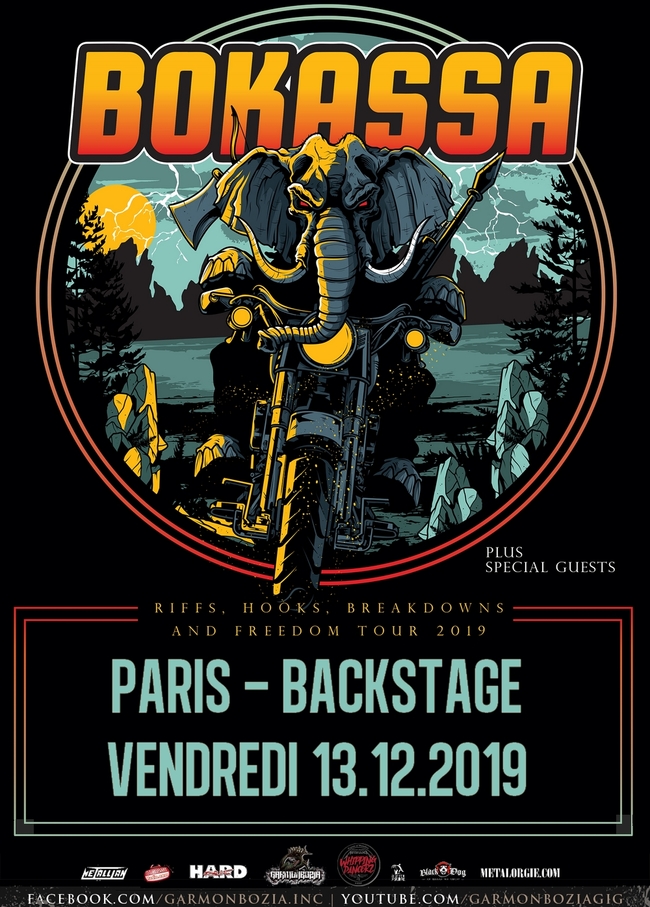 0 Comments
Tweet
---
Saturday, November 16, 2019, in News, Podcast
Le podcast de toute la ZanZanA, l'émission METAL de RTCI, du mardi 12 novembre 2019, un numéro spécial pluies, orages, tonnerres....
Titres diffusés :
AC/DC - Thunderstuck
Kiss - God Of Thunder
Scorpions - Rock You Like A Hurricane
Queensryche - Another Rainy Night Without You
Motorhead - Thunder Lightning
The Cult - Rain
Slash - Driving Rain
Creed - Rain
Tarja Turunen - Tears In Rain
Liv Kristine - Wait For Rain
Epica - Storm The Sorrow
Iron Maiden - Rainmaker
Vanderberg - Heading For A Storm
Tool - Flood
The Cure - Prayers For Rain
Guns & Roses - November Rain
Jeff Scott Soto - Purple Rain
Led Zeppelin - The Rain Song
Theatre Of Tragedy - Storm
Ozzy Osbourne - Black Rain
Amon Amarth - Twighlight Of The Thunder God
Kreator - From Flood Into Fire
Bullet For My Valentine - Eye Of The Storm
Body Count - Raining Blood - Postmortem
Hanging Garden - Rain
Aerosmith - Lightning Strikes
Whitesnake - Crying In The Rain
Soundgarden - Black Rain
The Doors - Riders On The Storm
Bonne écoute
La ZanZanA, l'émission METAL de Radio Tunis Chaîne Internationale (RTCI), animée par Karim BENAMOR, est diffusée tous les mardis entre 21h et Minuit.
Chaque semaine, la ZanZanA vous fait découvrir le meilleur des nouveautés Metal mais pas que : actualité des artistes, la redécouverte de classiques, des interviews, des lives...
La ZanZanA, l'émission du METAL, depuis 2000 sur RTCI
in noise we trust...
0 Comments
Tweet
---
Friday, October 09, 2015, in Albums, Vidéo, News
Up and coming modern progressive metal outfit NOVELISTS have released the official lyric video for their brand new single, 'The Lichtenberg Figure'. Surf to http://geni.us/LichtenbergFigureVideo
The song comes off the band's eagerly awaited debut album, »Souvenirs«, on November 6, 2015 via Arising Empire.
Also watch the music video for 'Voyager' at this location:
Recently the band released a guitar play through video for their current single, 'Gravity':
Check out the music video for 'Gravity' at this location:
»Souvenirs« was mixed and mastered under the masterful watch of NOVELISTS bass player Nicolas Delestrade (BETRAYING THE MARTYRS) at NDSE Recordings and will feature guest appearances by Pierre Danel (KADINJA), Lotti Holz and Plini Roessler-Holgate (PLINI). Find the cover artwork created by the band's gifted guitarist, Charly Kelevra, below.
NOVELISTS will be touring heavily in support of their upcoming debut release. Scroll down for a full list of current live shows. More dates to be announced soon.
»Souvenirs« will be released in a lavish digipak including 2 bonus tracks and will contain the following tracks:
1. Inanimate
2. Earth Grazer
3. Gravity
4. Antares
5. Ouroboros
6. Black Lights
7. Voyager
8. Muchos Touché
9. Echoes feat. Pierre Danel
10. 5:12 AM feat. Plini Roessler-Holgate & Lotti Holz
11. The Lichtenberg Figure
12. Souvenirs
+ 2 Bonus Tracks
NOVELISTS on tour
07.10. DE Wiesbaden - Schlachthof
08.10. DE Köln - MTC
09.10. LU Luxembourg - Rockbox
10.10. FR Lyon - Peniche La Marquise
11.10. DE Stuttgart - Kellerklub
12.10. DE Schweinfurt - Alter Stattbahnhof
13.10. CH Zürich - Dynamo
15.10. DE Dresden - Scheune
16.10. AT Wien - 3 Raum – Arena
17.10. DE München - Backstage Club
30.10. UK Bridgend - Hobos
31.10. UK Leeds - Milo Bar
01.11. UK London - The Black Heart
02.11. UK Sheffield - Corporation
03.11. UK Newcastle - Trillians
04.11. UK Stoke On Trent - Bunker 13
NOVELISTS is:
Matt Gelsomino - vocals
Florestan Durand - guitar
Amael Durand - drums
Charly Kelevra - guitar
Nicolas Delestrade - bass
0 Comments
Tweet
---
Friday, October 09, 2015
Voici les titres diffusés lors de la ZanZanA du jeudi 08 octobre 2015:
Megadeth -- Fatal Illusion
AC/DC - You Shook Me All Night Long
Guns'N Roses - Welcome To The Jungle
Metallica - Master Of Puppets
Myrath - Tales Of Sand
Bader Nana - Wormwood "Quarantine"
Radiohead - Karma Police
System Of A Down - Chop Suey
Mudvayne - Forget To Remember
Slipknot - Custer
Slayer - Bitter Peace
Machine Head - Imperium
Lamb Of God - Ruin
King Diamond - Sleepless Nights
Gojira - The Way Of All Flesh
Pantera - This Love
Sepultura - Angel
Cradle Of Filth - The Death Of Love
Dream Theater - Pull Me Under
Therion - Mon Amour Mon Ami
Nox Arcana - Night Of The Wolf
Trivium - Strife
0 Comments
Tweet
---
Wednesday, October 07, 2015, in Playlist
Voici la playlist des titres diffusés sur RTCI lors de la ZanZanA du jeudi 01 octobre 2015:
Rage Against The Machine - Wake Up

Limp Bizkit - Take A Look Around

Hemlyn - Ena El Medelel

Ali Jaziri - Hold Your Hand

Persona - Blinded

Vielikan - A Vertiginous Fall

Phobia - In Need Of Assistance

Ali Jaziri - Gaia

Vielikan - A Trapped Way For Wisdom

Phobia - Unavoidable Torment

Mother Feather - Mother Feather

Theatre Of Tragedy - Envision

Huntress - Sorrow

Within Temptation - Shot In The Dark

Asylum Pyre - Spirited Away
La ZanZanA est diffusée tous les jeudi soirs entre 21h00 et minuit sur RTCI
0 Comments
Tweet
---