News
les NEWS de la ZanZanA, l'Emission MeTaL de RTCI
>
News
Saturday, January 16, 2021, in News
Dimanche 17 janvier à 20h30, dans le cadre du ZanZanA Live Streaming Show, nous nous intéresserons au livre "Oh My Rock !".
Ce livre s'adresse aux fans de rock et de toutes ses déclinaisons musicales (de la plus douce à la plus hard) d'hier et d'aujourd'hui : AC/DC, ARTIC MONKEYS, DANKO JONES, FOO FIGHTERS, GENESIS,GOJIRA, GHOST, IRON MAIDEN, KOЯN, MASTODON, METALLICA, MUSE, PAPA ROACH, RAMMSTEIN, SOAD, SHAKA PONK, TELEPHONE, THE CURE, THE POLICE, THE WHO, U2, VOLBEAT, ZZ TOP etc.
Cet ouvrage délivre quelques secrets sur 101 groupes qui ont marqué le rock et qui pour un grand nombre font toujours vibrer les planches des scènes de spectacle.
Nul doute que le plaisir de découvrir l'origine du nom des groupes vous apportera des réponses, vous transportera dans le passé et vous fera entrer dans les racines profondes de l'univers rock.
Pour agrémenter chaque histoire du groupe, une « anecdote insolite » est associée ainsi qu'un Qr Code, qui vous fera basculer dans l'interactivité.
#ZanZanA
0 Comments
Tweet
---
Friday, December 20, 2019 - Posted by Wormholedeath Records, in News, Communiqués de presse
Reveal are proud to unleash the lyric video for the track "The Crusaders", taken from their album "Overlord" out via Wormholedeath / Goodfellas.
Band statement: We are proud to present you the official lyric video of one of our most acclaimed songs from our last album "Overlord" , "The Crusaders" !
Enjoy it, share it and remember #istimetoreveal
0 Comments
Tweet
---
Wednesday, December 04, 2019, in Vidéo, News
Une reprise de ABBA pour démarrer la ZanZanA du mardi 03 décembre, il fallait le faire !
Faut dire aussi que le groupe AMBERIAN DAWN cherche à s'imposer avec un nouveau genre, déroutant certes, mais à vous de faire votre avis : le ABBA Metal !
Ce titre fait partie du nouvel album du groupe intitulé "Looking For You", prévu pour le 31 janvier via Napalm Records.
Ca sera le neuvième opus de AMBERIAN DAWN, groupe de metal symphonique finlandais fondé en 2006.
AMBERIAN DAWN est composé de :
Chants: "Capri" Päivi Selo
Guitare: Emil Pohjalainen
Basse: Jukka Hoffren
Batterie: Joonas Pykälä-aho
Claviers: Tuomas Seppälä
0 Comments
Tweet
---
Monday, November 25, 2019, in Playlist, News, Podcast
Le podcast de la seconde heure de la ZanZanA, l'émission METAL de RTCI, du mardi 19 novembre 2019.
Titres diffusés :
Ozzy Osbourne - Under The Graveyard
Leprous - Golden Prayers
Powerwolf - Army Of The Night (Live)
Myrath - You've Lost Yourself
Persona - The Omen of Downfall
Carthagods - Whispers From The Wicked
Lionheart - When I Get Out
Stray From The Path - Beneath The Surface
Eskimo Callboy - Hurricane
Polaris - Masochist
Bonne écoute
La ZanZanA, l'émission METAL de Radio Tunis Chaîne Internationale (RTCI), animée par Karim BENAMOR, est diffusée tous les mardis entre 21h et Minuit.
Chaque semaine, la ZanZanA vous fait découvrir le meilleur des nouveautés Metal mais pas que : actualité des artistes, la redécouverte de classiques, des interviews, des lives...
La ZanZanA, l'émission du METAL, depuis 2000 sur RTCI
in noise we trust...
0 Comments
Tweet
---
Saturday, November 16, 2019, in Albums, Vidéo, News
Découvrez la nouvelle vidéo de BOKASSA "Charmed & Extremely Treacherous" :
Ce titre est extrait du nouvel album "Crimson Riders" deuxième album studio du groupe de rock norvégien. L'album est sorti le 21 juin 2019 via Kings Of Stonerpunk et MVKA.
Bokassa seront en concert à Paris le 13 décembre prochain/ Backstage O Sullivan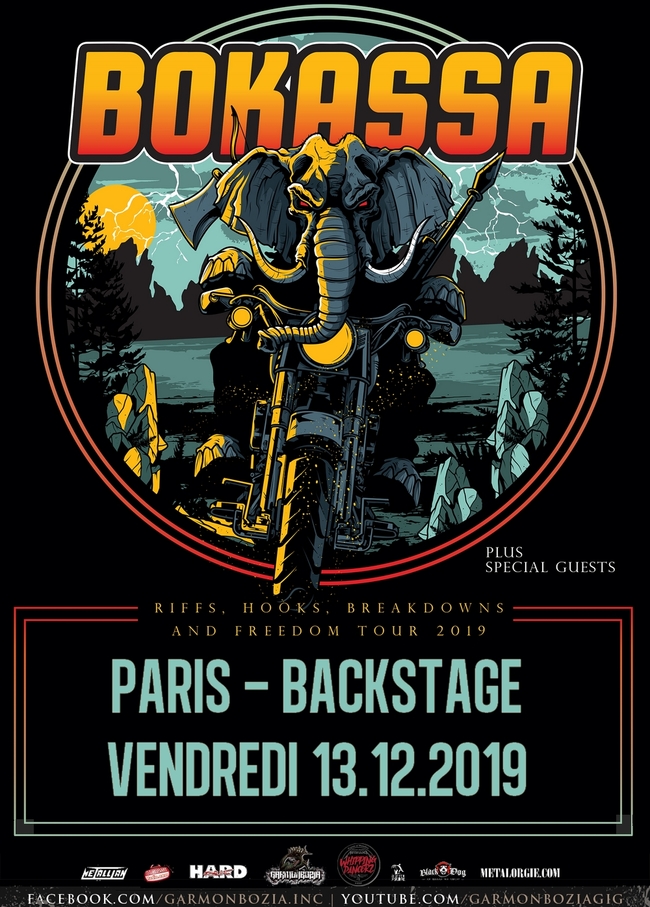 0 Comments
Tweet
---